The title of a website page is very important because it is often the first thing someone sees when they find your site from a search engine like Google. You want to make sure it accurately reflects what the page is about so that people will click through to it.
Your website title should be eye-catching, short, descriptive and be keyword rich to capture the attention of the viewer and help increase your rankings with SEO.
Where is the Website Title?
They appear in the title bar of your browser and in Google's search results.
How to Write the Title of a Website
The following are a few suggestions that may help you write the title of a website that is both effective and appropriate for your business:
Incorporate keywords into the title but make it more than just a list of keywords. Include some descriptors to give it more meaning and try to end in a way that describes what the site is all about.
If you are incorporating an abbreviation into your title, make sure it is appropriate for your business.
The best way to come up with a good title is to think about what people are most likely going to be drawn to when they land on your site.
Are they looking for information on a certain topic?
Are they looking for a certain type of product or service?
Once you have figured out, work backwards and figure out what words or phrase you would use to describe the draw.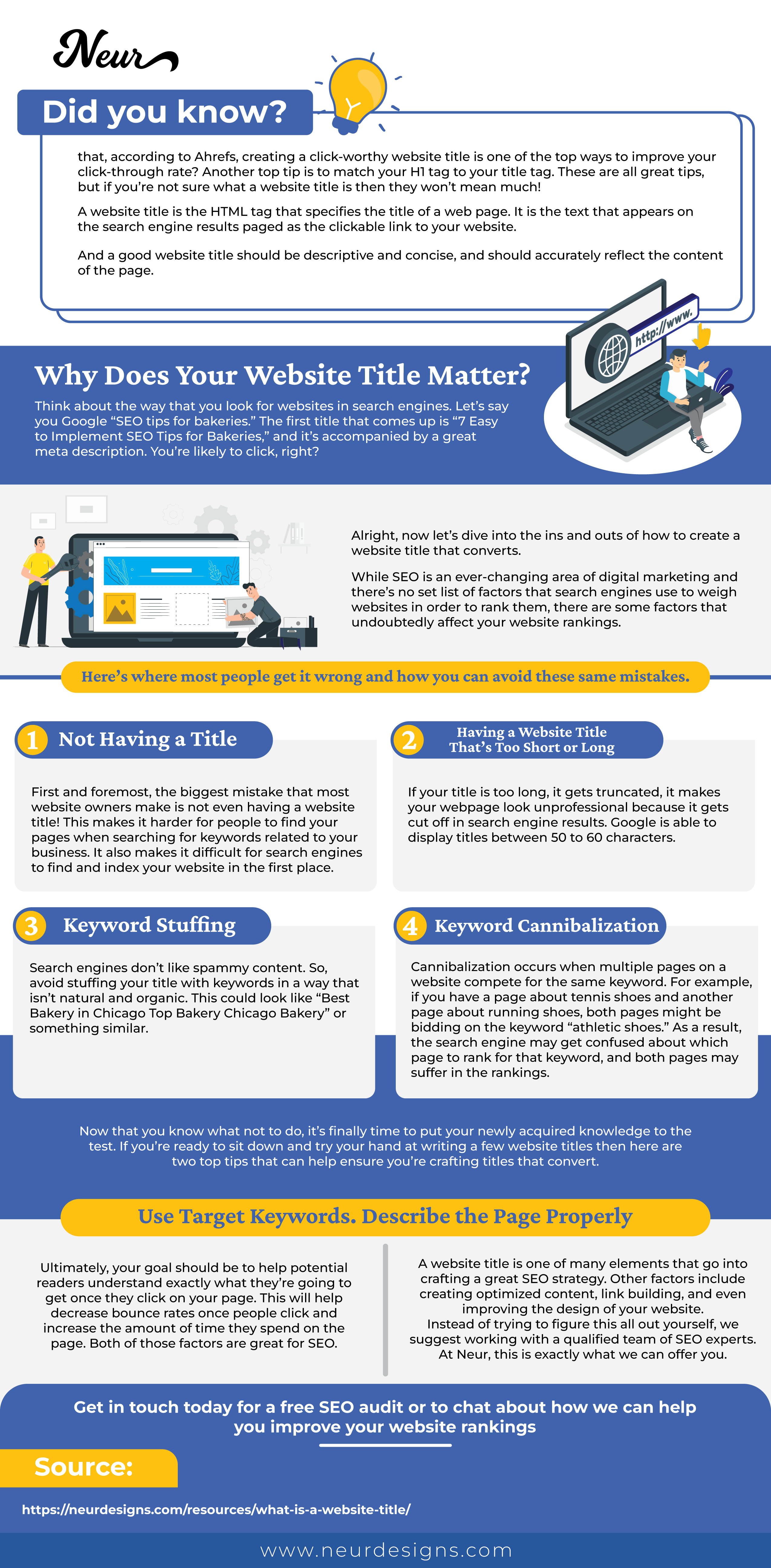 Embed This Infographic On Your Site
<p><a href="https://neurdesigns.com/resources/what-is-the-website-title/" target="_blank"><img src="https://826804.smushcdn.com/1661429/wp-content/uploads/2022/10/link-building-strategies-infograph-scaled.jpg?lossy=1&strip=1&webp=1" alt="What is link building infographic" /></a><br /><strong>Source: <a href="https://neurdesigns.com/resources/what-is-the-website-title/">What is the Website Title</a>?</strong></p>